---
ZGEN Newsletter 3Q21: Learning From Experience
Dear ZGEN Alumni,
American philosopher John Dewey taught that, "we do not learn from experience … we learn from reflecting on experience." However, in entrepreneurial circles, we often hear a mantra with a persistent push to the next experience: "fail fast," "fail often," or "fail forward." This quarter's newsletter takes a page out of John Dewey's book with the hopes of pulling us out of the day-to-day start-up grind for a moment of reflection. We asked three of ZGEN's veteran entrepreneurs to reflect on their own entrepreneurial experiences and to share a few thoughts about what they have learned since graduating from the program.
Nim Bar Levin (IDC Zell 4) is a serial entrepreneur who has co-founded multiple ventures with the same business partner, and our interview dives into his reflections on how the co-founder relationship in a start-up impacts risk, efficiency, and of course, ego. Currently, Nim is co-founder and CEO of Dynamo, a cloud-based learning platform that transforms educational content into bite-sized learning experiences and seamlessly integrates them into a user's digital routine.
Shaily Baranwal (ZLI Class of 2007) joins us to reflect on how a problem-solving drive and the choice to view challenges as opportunities for improvement form the basis of her entrepreneurial identity. Shaily is currently founder and CEO of Elevate K-12, an edtech company solving the teacher shortage problem in K-12 schools by making high-quality instruction available to all students by live-streaming certified teachers into classrooms.
Saumya (Kellogg Class of 2017) is co-founder of Kheyti, a company that provides a low-cost "greenhouse-in-a-box" with services to small farmers to increase farm yields by up to 700%. As an impact entrepreneur, Saumya shares her thoughts on the challenge of balancing breadth and depth when it comes to making an impact, and how patience is key to having that impact materialize.
We hope you enjoy the conversations as much as we did. Thank you to Nim, Shaily, and Saumya for your help in bringing this content to fruition.
Please feel free to join the discussion on the ZGEN LinkedIn Group!
Be well, and "Go for Greatness,"
The ZGEN Team
---
Can't get enough of your fellow ZGEN alumni? Please join us on the Clubhouse app on Wednesday, August 25th (2pm ET, 11am PT, 9pm Israel) for a conversation with an all-star slate of Zell Alumni! Please RSVP here.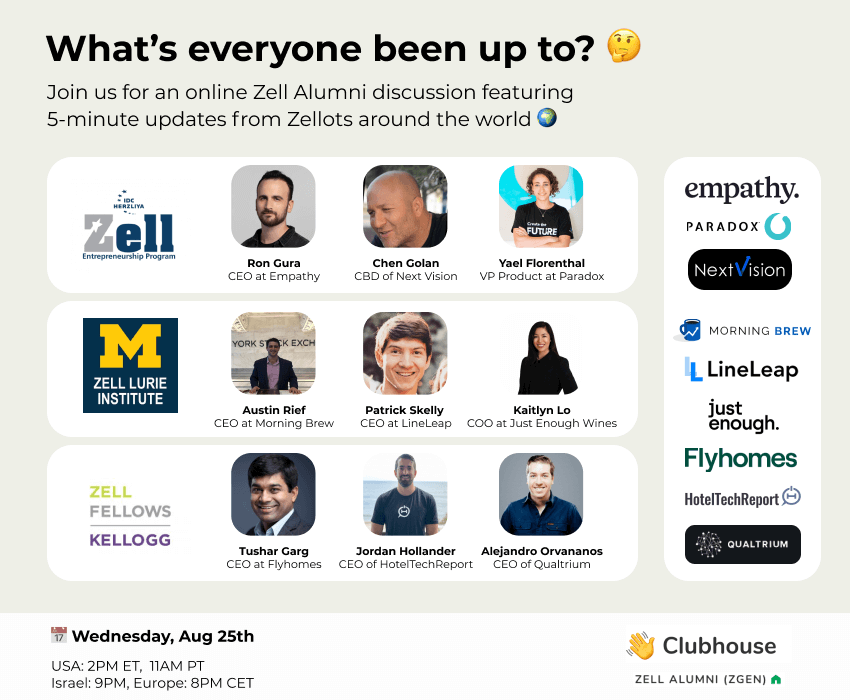 ---
ZGEN Program Highlights
Kellogg Program Highlight

Flyhomes Raises a $150mm Series C Round
Congratulations to Zell Fellows alumni Tushar Garg and Steve Lane on Flyhomes' staggering $150 million Series C round, launching the company's valuation to over $800 million. While Flyhomes has already been disrupting the market on the West Coast, this funding will enabe them to continue expanding their reach into new markets across the country. Learn more about Flyhomes, their journey, and their innovative real estate model here.
Connect with co-founders -> Tushar Garg (Class of 2016) & Steve Lane (Class of 2016)
---

Gearflow.com Raises a $3mm Seed Round
Congratulations to Zell Fellow Ben Preston and the team at Gearflow.com for their recently announced $3 million raise. From winning Northwestern University's VentureCat competition in 2020 to this raise announcement almost one year later, Gearflow.com has made amazing progress in a very short time.
Connect with the co-founder -> Ben Preston (Class of 2021)
---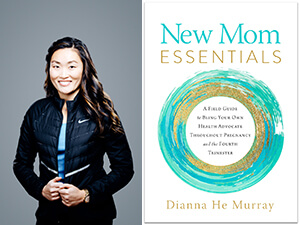 A New Read for New Moms
Dianna He Murray has written a book that covers essential informa­tion for moms-to-be, helping them plan for childbirth and optimize their health (physical, mental and emotional) during pregnancy as well as postpartum. Dianna believes that, as a society, we need to take care of the people who bring us into this world – and often continue to nurture us for the rest of our lives. A big part of that is to change the perception of self-care. For a mom to best be able to take care of her child and her family, she MUST tend to her mental, emotional, and physical health. Dianna's book will be out on Labor Day, 9/6/2021.
Connect with the author -> Dianna He Murray (Class of 2018)
---
University of Michigan Program Highlight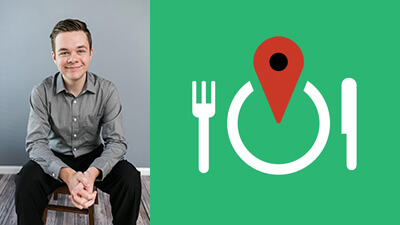 FoodFinder + Google = Fewer Hungry Families
FoodFinder Founder & CEO Jack Griffin recently partnered with Google to help even more American families get access to food pantries and food banks in their communities. Griffin, who was involved in numerous ZLI programs while earning his BBA at Michigan Ross, had already been working with Google For Nonprofits since 2018. Earlier this year, FoodFinder joined with Google, No Kid Hungry, and the USDA to power Google's newly launched "Find Food Support" emergency food resource platform.

"When the U.S. declared COVID-19 a national emergency on March 12, 2020, FoodFinder went from serving 700 people a day to more than 3,000," Griffin told Food Bank News. "That quadrupling of our demand held true for the next several months in 2020." As a result, FoodFinder has served more than 400,000 people during the pandemic.

Google noticed that food insecurity was still spreading rapidly, and increased online searches for terms like "food bank near me" and "school lunch pickup" prompted the company to act. "The team at Google began to undertake this initiative because they saw the same need that we did," Griffin said. "It's been a pleasure to see what we've been able to achieve together."

While Google and FoodFinder are helping stem the tide during the pandemic, their collective work is far from done. "The immediate goal for us is to get to pre-pandemic levels of food insecurity and undo the damage done by COVID-19," said Griffin. "But those levels that we were at before the pandemic were unacceptable for a nation as well off as America is today. We're going to see if we can be a force and part of that wave of lifting millions of food-insecure families into lasting food security, beyond the normal cyclical flows of when times are good or times are bad."
Connect with the founder -> Jack Griffin (ZelI Entrepreneur '18)
---
IDC Program Highlight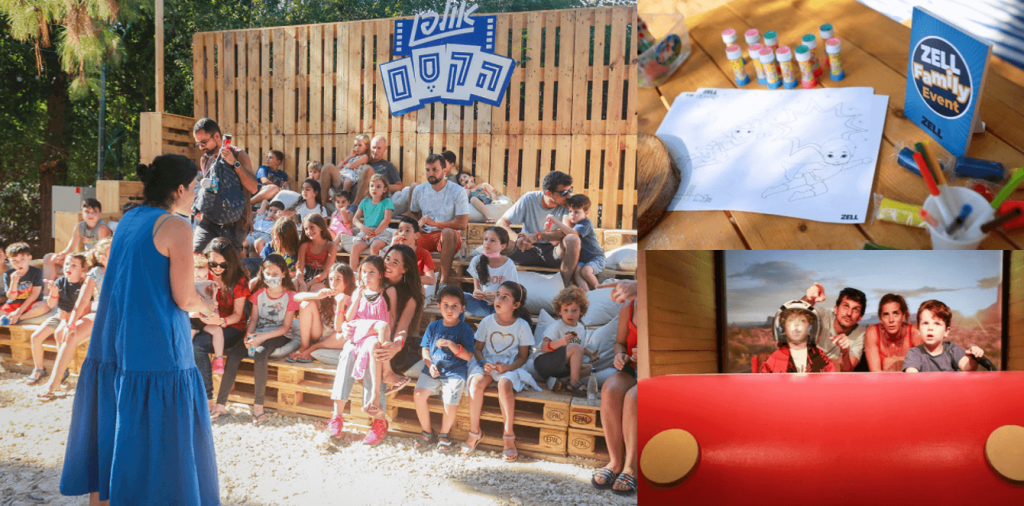 Zell Family Annual Event
More than 30 families celebrated the annual Zell Family Event, a seven-year tradition, and this time at the Herzliya Studios! The Zellot's kids enjoyed learning, filming, recording, and making videos at the new visitors' center, founded by Daphna Giniger (Zell 8)
---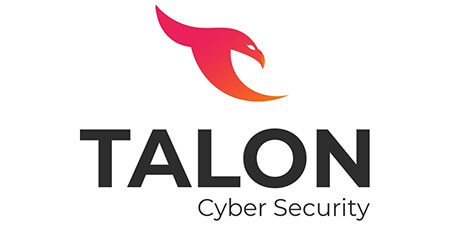 Talon Cyber Security Raises a $26mm Seed Round
Congratulations to Zellot Ofer Ben-Noon and the team at Talon Cyber Security for raising a $26 million seed round. Talon is a leading provider of cyber security solutions for the distributed workforce. Providing a next-generation technology designed to protect against a new category of threats posed by distributed work and accelerated cloud usage, Talon enables workforce productivity and flexibility alongside holistic visibility and rock-solid cybersecurity.
Connect with the founder -> Ofer Ben-Noon (Zell 13)
---

Empathy Raises a $13mm Seed Round
Congratulations to Zellot Ron Gura and the team at Empathy for raising a $13 million seed round. Empathy is a platform helping families navigate the journey they face after losing a loved one, both logistically and emotionally. Alongside the financing announcement, Empathy is launching its app for the first time in the US. By using the app, families and mourners can prioritize the long to-do list and reduce the load and stress, which comes with the process.
Connect with the founder -> Ron Gura (Zell 8)
---
Next Vision Opens Trading on the Tel Aviv Stock Exchange
Congratulations to Zellot Chen Golan on the IPO of NextVision on the TASE! NextVision is the market leader in the field of micro-stabilized gimballed cameras. NextVision offers the widest range of field-proven stabilized cameras and accessories for commercial, industrial, and security applications. NextVision operates in 34 countries around the world and raised $35 million.
Connect with the founder -> Chen Golan (Zell 1)
---
University oEquity Group Investments Highlight

Equity Group Investments Forges Partnership with Paper Transport to Drive Growth Strategy
EGI's Fifth Recent Investment in Transportation & Logistics
Equity Group Investments (EGI), Sam Zell's private investment firm, recently invested in Paper Transport, a Wisconsin-based for-hire truckload carrier that offers regional truckload, dedicated truckload, intermodal and logistics services. EGI is partnering with Paper Transport's senior management team, who continue leading the business and retain an ownership stake in the company. The partnership provides additional capital for add-on acquisitions and strategic support for the organization's growing truckload, intermodal and truck brokerage offerings.

Paper Transport has operations throughout the Midwest and Southern U.S. and holds a strong track record with shippers of paper products and consumer goods, including many global brands and Fortune 500 companies. Founded in 1990, the company ranks as the 41st largest dedicated truckload carrier and 22nd largest intermodal/drayage carrier in North America, employing more than 1,100 Class A truck drivers and office professionals and operating a fleet of 850 tractors and 3,000 trailers. Read the full press release here.

Connect with EGI -> Ellen Havdala, Aaron Zell
---
Sam Zell in the News
Sam Zell Buys Gold With Inflation 'Reminiscent of the '70s' (Bloomberg)
---